You can use Starlink as an Internet source in the Multi-Internet Intgration of Insty Connect. 
MII is available in firmware 1.3 or later.
https://my.insty.hosting/client/knowledgebase/354/Insty-Connect-UPDATE---How-to-know-if-your-Insty-Connect-is-up-to-date.html
To begin, follow the steps below:
1.) Remove the 'old' internet interface so the Insty does not conflict with the Starlink.
The original Insty Connect used the same IP network range as the Starlink uses.  To avoid any conflicts between the 2 systems, we changed our network IP address range in Firmware 1.3.  
The Insty router is now 10.1.1.1, and the Starlink router is 192.168.1.1
In order to keep backwards compatibility, we added an 'old' interface in the system so you could still reach the router using the old IP address of 192.168.1.1.  In order to use our router with Starlink, that old interface must be removed.  
a.) Go into the Advanced (Geeky) section and navigate to Network ->Interfaces.
b). Scroll to find the OLD interface, and click DELETE.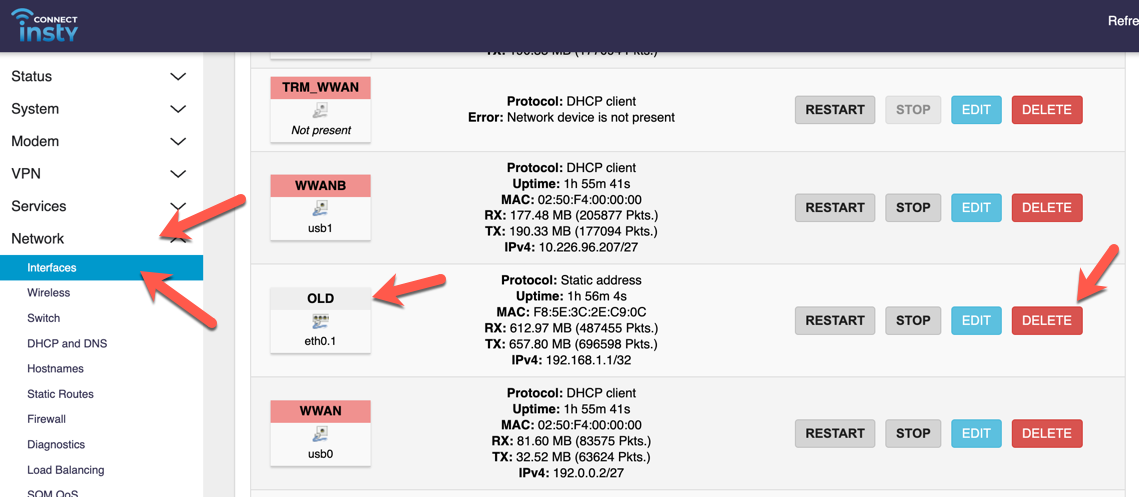 *IMPORTANT* Once the old interface is deleted, you will only be able to reach the router using the http://10.1.1.1 address, or using http://my.insty
2.) Choose how you will connect your Starlink to the Insty Connect.
You can connect in one of 2 ways:
a.) Use Travelmate to connect Starlink wirelessly to your Insty Connect Router.   For instructions, please see this KB article:
https://my.insty.hosting/client/knowledgebase/384/How-to-connect-to-other-WIFI-networks-using-the-new-TravelMate-Hot-Spot-Manager--WIFI-As-WAN-.html
b.) Use the Starlink Ethernet adapter to connect directly to the WAN port of the Insty Connect.
This option provides the best speeds and latency, but can be difficult to troubleshoot if your Starlink is working correctly.   In order to make this work, you must place your Starlink router into Router bypass mode and then connect your Starlink Ethernet adapter to the WAN port of your Insty Connect router.
Please see Starlink documentation for instructions on the benefits and drawbacks of using router bypass mode, as well as the instructions on how to reset your Starlink router to original factory settings to clear router bypass mode.
Nick's notes on router bypass mode and direct ethernet connection:
I had trouble with my first Starlink ethernet adapter, where it failed at one point.  When you are in router bypass mode, you can't use the Starlink app to see the status of the system, so I couldn't identify if the dish had a signal, or if there was a problem with the hardware.
I had to reset the system to be able to fire up the normal Starlink wifi and status app, and then was able to see that the ethernet adapter failed and needed to be replaced.
I ordered another adapter, and it failed after about a week of use.
My suggestion would be to use the ethernet adapter only if you are stationary.  If you consistently deploy and stow the dish, the ethernet adapter seems to fail after a while. I found that using Travelmate instead and connecting via Wireless to be a good option for this.
3.) Setup Multi-Internet Integration
Please see this KB article for how to setup and manage MII:
https://my.insty.hosting/client/knowledgebase/387/Multi-Internet-Integration.html
NOTE
Multi-Internet and Starlink Integration is currently in Beta.  This section is a work in progress, so check back for updates.  Comments/concerns and feedback is appreciated!