Latest Update Version: InstyConnect v1.3.1 2023_05_30f/u
New flash firmware 1.3 to 1.3.1 is out!   *** A POWER CYCLE IS REQUIRED AFTER THIS FIRMWARE IS FLASHED ***
Current Firmware Version is 1.3.1 -   If you have a previous firmware version, see below to flash your Insty Connect:
There are 2 types of updates that we employ for the Insty Connect.  
Incremental Updates
Flash Updates
When you click on the Software Update button, any incremental updates are downloaded to your router.  Incremental updates usually take only a minute or so to download.  An incremental update will not normally change the major version of your firmware.  (If you have 1.2, an incremental update will not bring you to 1.3)
If you click the Software Update button and there is a new flash firmware available, we will alert you and give you instructions on how to apply the flash update.
It is important to carefully read the update messages on the router as they will give you specific instructions and MAY tell you to ignore an upcoming message.
If you get a message about a flash update, it's important to do the update as soon as you are able to.  Flash updates will clear out all the current configuration of the router, and you will need to run through the setup process again once the flash update is complete.  Flash updates can also take up to 20-25 minutes to complete, and while the system is flashing the new firmware, the internet connection will be down for that period of time and until you complete the setup wizard.
The printed "Setup Wizard" installation steps are available on the main website, under the Help menu.
How to apply a flash update to your router:
You'll NEED a good connection as it will download a full firmware file to the router.  If you have a good connection, click the 'Software Update' button.  It may take up to 5 minutes to download.
Near the end of the software update, instructions will appear if the firmware file downloaded successfully.  If it did not, try to run the update button again until you see the flash firmware instructions message.
DO NOT REBOOT after the update.  Follow the instructions and run the Software Update again to flash the router.
When the flash is running, after about 5 minutes, do a wifi scan on your device and wait for the insty_connect_setup wifi to appear.  When it does, attempt to connect and run the setup wizard.  *Important - be sure to forget all other wifi connections so your device will not roam away from the insty_connect_setup wifi.  It must stay connected during the entire setup wizard process.
When you finish the setup wizard and you verify that your wifi information stored -  POWER CYCLE THE ROUTER.  This is important as some changes require power to be removed (completely unplug for 1 minute).
After you boot back up and verify internet is working, run a Software Update one more time to download any incremental updates or modem updates and verify that the version is in line with the latest above.  Flash updates may have incremental updates waiting and will only be able to download once you are on that firmware version base.
If you have any questions or troubles, please let us know.
To tell if you are up to date, head into the Config (Geeky) and under Status -> Overview, look for the Firmware Version.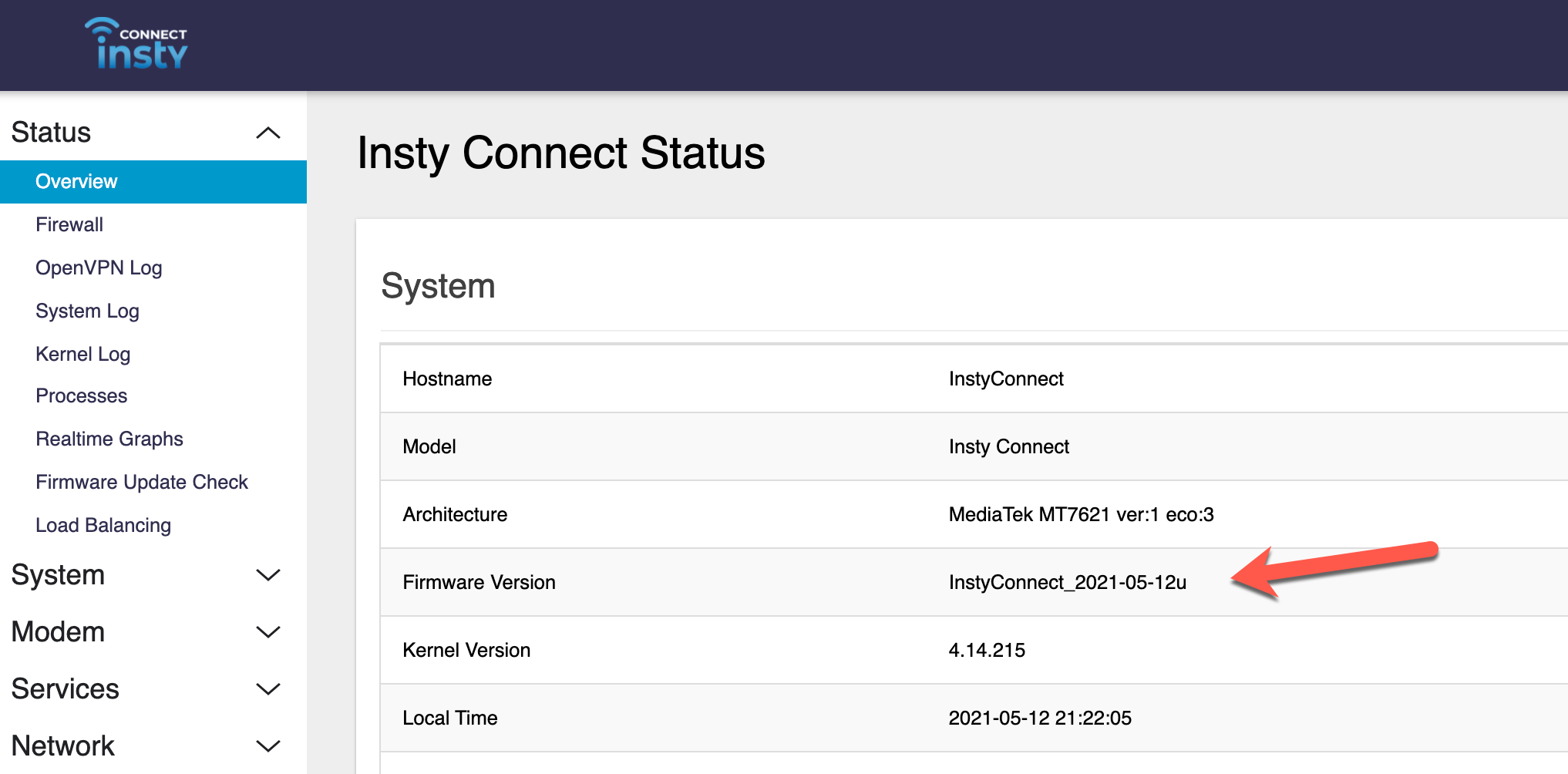 How to do an incremental software update.
1.) Log into the dashboard of the Insty Connect system by going to http://my.insty or http://10.1.1.1 in your web browser.
2.) Scroll down to the blue buttons and click on the 'Software Update' button: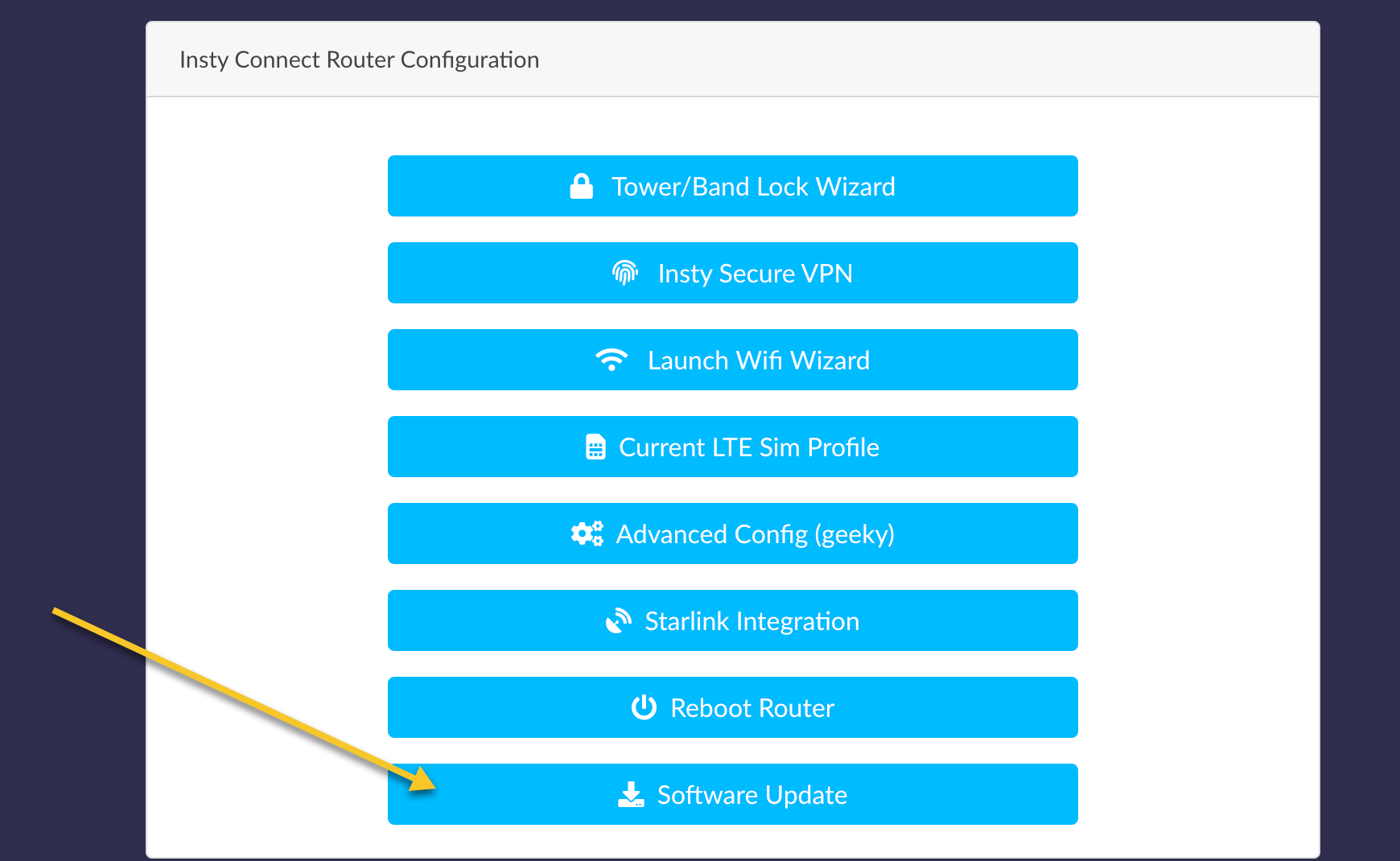 3.) You will need to login to the router, then click the 'Run Software Update' button

4.) Follow the on screen instructions.
Release Notes:
2023-05-30: 1.3.1 Minor updates to 1.3.1
2023-05-02: 1.3.1 Firmware Flash Released!  Major Update. 

Changed sim switch mechanism.  No longer shows name of second SIM card on dashboard, but SIGNIFICANTLY increases boot up and re-connect times as well as sim switch times from minutes to seconds.
New algorithm to determine internet outage and reconnection reducing 'kicks' or 'tower disconnects' from providers
Updated tower scanning feature includes providers and Cellmapper ID's when full spectrum scanning!
Added the ability to flash modem firmware to take advantage of new commands and information (as above) from towers.
2023-03-30: Minor 1.3 updates and added 1.3.1 BETA to the update process.  BETA INFO:  1.3.1 is a large incremental update that makes major changes to the modem operation, band scanning, etc.  It also includes modem module flash files from Quectel to update the X55 firmware to bring it more inline with some features that are found on the X62.  At this point, only beta testers or those instructed by Insty Support should download the beta.
2023-03-20: Minor update to firmware 1.3:
Adjusted internet detection protocol due to T-Mobile's removal of PING over IPV4 in Stand Alone 5G causing false 'internet outage' messages
Fixed missing signal percentage for Stand Alone 5G bands on T-Mobile
Set Multi-Internet Integration to Disabled by default
Fixed SIM2 missing interpretation of IMSI number
Misc visual fixes and adjustments to signal processing
2023-02-21: Added additional settings for X62 modem, improvements to the band scan and lock system for 5g, improved SIM switch speed, misc bug fixes. 
2022-11-28: Added Speedtest Widget back to the dashboard.  Added IMEI to status page.
2022-11-21: Added a fix to disable Multi-Internet functionality from within the Multi-Internet Configuration button on the dashboard.
2022-11-08: Firmware Flash 1.3 applies the following fixes and updates:
Automated SIM recognition and setup
Multi-Internet Capability, load balance and failover multiple WAN connections
Updated band scanning system
Multi-modem Functionality, ability to add a second wings 
Changed LAN Subnet from 192.168.1.0 to 10.1.1.0 to avoid conflict with other WAN connections like Starlink, Etc.
Added a 'Dummy' ip of 192.168.1.1 to the router as a means of contacting the router for backwards compatibility.
2022-09-01: Add InstyLink Silver and Pink SIM profiles.
2022-08-02: Fix for server 500 errors in the band scan and lock page.  
2022-06-22: Minor changes for band lists in band scan and lock
2022-03-23: Firmware Flash 1.2.2 applies the following fixes:
New Wifi as WAN system - Travelmate
IPV6 Functionality for stand alone 5g bands.  New option in Sim Profile 'Advanced' tab to select IPV4 or IPV6 networks.
Full Spectrum channel and band scanning beta
5g band locking beta for stand alone networks (only available for T-Mobile in the US)
Added new cellular providers, FirstNet and InstyLink to the sim profile
2021-12-31u: Minor changes.
2021-11-02f: Re-enabled hardware offloading for 5g, added roaming bands for T-Mobile
2021-09-20f: Firmware flash 1.2.1 with Insty Secure VPN beta
2021-09-08u: Hotspot manager fix
2021-08-31u: Band algorithm changes for better speeds, and 5g rollout preparations.
2021-08-20u: Wifi Enhancement & Additional preparations for 5g rollout.
2021-08-18u: Software fix for mis-reading SIM IMSI numbers.  In some cases, a SIM IMSI was reported as '3' instead of the 15 digit IMSI.  Additional preparations for 5g rollout.
2021-07-28f: New Insty Connect v1.2 firmware.  New modem device drivers for preparation of 5g modem as well as connection stability.  Based on the latest OpenWRT 19.07.7
2021-07-14: Minor changes.
2021-07-01: LTE Reconnect adjustments added.
2021-06-14: Connectivity adjustments for At&t, Verizon and T-Mobile.
2021-06-08: Added additional roaming bands for Sprint band scan and lock.  
2021-06-03: Preparations for Insty VPN added.  
2021-05-12: Added Provider listing for Sprint. 
2021-05-06 : Connectivity update patch for some third party providers, as well as a major update to the band scan and lock feature.